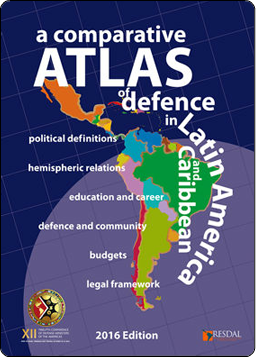 A Comparative Atlas of Defence in Latin America and Caribbean
The Comparative Atlas of Defence is the first regional source of information on regional defence issues. It offers practical information provided by official institutions related to the subject, presented both in a comparative and country-specific manner according to the data. In addition, the Atlas contains analytical papers written by members of the Network to assist in the interpretation of the data presented.
It is a project that the Network first began in 2004 and has since been published biennially. Its fourth edition - 2010 - expands its impact through the incorporation of information on Cuba and the Anglophone Caribbean, and the 2012 edition fully incorporated these countries into the entirety of the publication.
CLICK on the edition of the Atlas that you would like to access