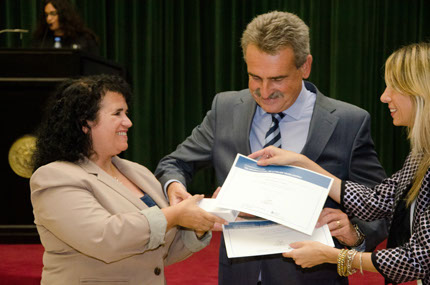 Marcela Donadio, RESDAL Executive Secretary, participated in the ceremony chaired by the Minister of Defence, Agustín Rossi, on the occasion of International Women's Day, where she received a commendation for her protagonist role in mainstreaming a gender perspective into the civilian management of defense.
In the event, held on March 10th, men and women were honored for their contribution to the implementation of gender mainstreaming within the defense sector and military institutions, providing them with a special mention.
In particular, the indications given to Ileana Arduino and Malena Derdoy constitute an important recognition of the pioneers in working on gender issues in the Ministry of Defence. Fabiana Loguzzo, Natalia Federman, Laura Masson, María Pía Valarino and Dora Barrancos were also distinguished alongside them.
It is important to note that this award was also given to men of the different forces for their work on these issues. The statements made by the Minister are important in this regard, in which he reaffirmed his commitment to fight against sexual harassment. The Minister emphatically stated that such attitudes should not be tolerated or contemplated in any form, stating in his speech "there is no room in the armed forces for abuse".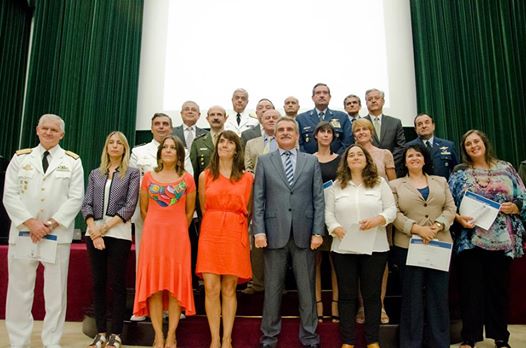 Rossi spoke about the relations between comrades and stressed the need to abandon all paternalistic attitudes towards women, and to give no space to the abuse of power in the relationship, stressing that women should be treated with fairness and the respect that is due to all.
Prior to recognitions being given, there was a presentation of the ninth edition of the book "Gender Equality and Defence: a Policy in Progress", a paper prepared by the Ministry outlining progress made in advancing gender equality during the last year.
Also participating at the ceremony were Stella Segado and Cecilia Mazzotta, Director of Human Rights and International Humanitarian Law and Director of Gender Policies respectively at the Ministry of Defence; Admiral Gaston Erice, Chief of the Navy, Brigadier General Mario Callejo of the Air Force, and Brigadier Emilio Arturo Infante, Deputy Chief of EMCO.