While military peacekeepers are tasked and expected to directly intervene to prevent and protect local population from human rights violations, they are not the best actors to directly respond and assist victims. This role is indeed covered by specialised civilian staff, such as human rights officers, sexual violence officers or DDR personnel, and humanitarian and local services of assistance. Seeing as most of the time military peacekeepers are not accompanied by specialised civilian staff in their daily tasks, they need to be prepared to face any kind of situations, in order to avoid trespassing their role and maximise the potentialities of their presence in the field. In cases of human rights violations, military peacekeepers need to be prepare to: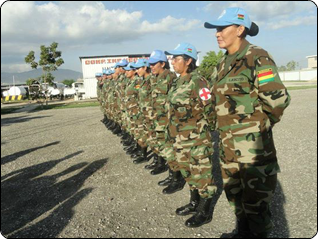 - detect incidents (human rights violations, crime, etc), or situations of potential risk and the most vulnerable subjects;
- know to whom and how to report the information, so that specialised actors can quickly intervene to assist;
- and know how to deal with potential victims of human rights violations or sources of information.
Each situation requires an attentive study of the context (hostile or friendly reactions of local population, for instance), the kind of alleged violations occurred (conflict-related sexual violence, torture, grave violations against children etc), and the knowledge of specialised actors that can quickly provide adequate assistance. In order to deal with such situations, peacekeepers need to have a comprehensive knowledge of the context, an understanding of the principles of confidentiality and protection in reporting information, and an effective network of cooperation with other peacekeeping and humanitarian actors.
The cooperation with civilian components of the peacekeeping mission is extremely important: civilian components can indeed be very useful, for instance, in providing military staff with the list of public health structures where peacekeepers can refer victims of human rights violations that were encountered in the field.
In addition to their standard training, military contingents should receive guidelines on how to deal with human rights violations prior the deployment in the mission area. The issue may be, however, that the field contexts differ from the situations presented in the training guidelines. In order to be as close as possible to the local reality, a joint work with civilian components is essential to enrich the capacities of both military and civilian sides.